Lecture: Introduction to Astronomy (MVAstro0); WS 2015/16
The lecture is equivalent to the bachelor module parts WPAstro.1+2 during the winter and summer term but requires a higher level of basic physical knowledge.
Nevertheless also motivated 3rd semester BSc students are welcome to participate.
The first part of the lecture is organized as a block course begin of Oct., while the second part takes places weekly during the semester until Nov. 23rd.

---
Written exam: Mon 7.12.15, 15:00 - 17:00, gHS
Lecture Introduction to Astronomy
Part I:
(V, block)
Time: 1.10. - 9.10.2015, daily 10 - 13
Location: 2.10.: nHS (lecture hall behind Philosophenweg 12); 5.-9.10.: kHS (small lecture hall at 2nd floor in Phil.12)
Part II:
(V, weekly)
Time: Part II: (V) 12.10. - 23.11.2015, Mo 15-18
Location: gHS (big lecture hall in Phil.12)
---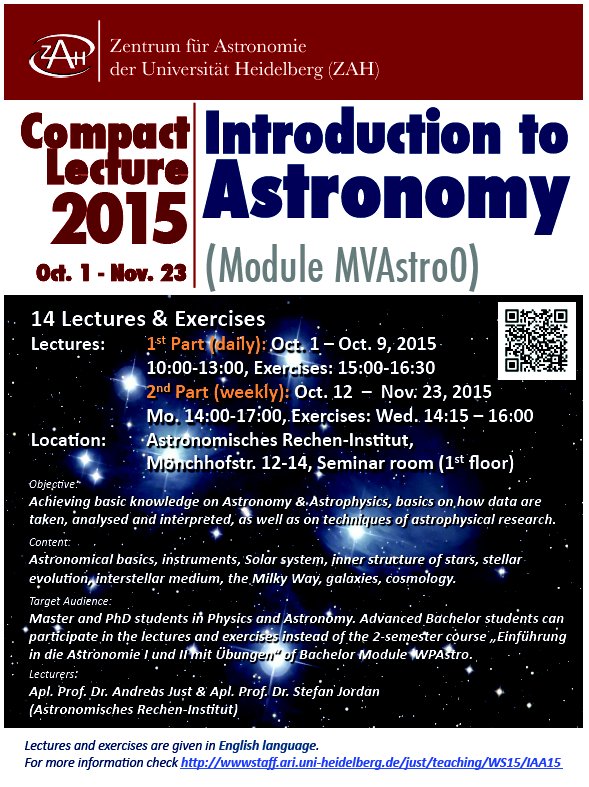 Content
Part I:
1.10. Introduction/Fundamentals of Astronomy: Jordan
2.10. Fundamentals 2: Jordan
5.10. Sun and Planetary System 1: Jordan
6.10. Sun an Planetary System 2: Jordan
7.10. Telescopes and Instruments: Jordan
8.10. Radiation and stars: Jordan
9.10. Stellar evolution: Jordan
Part II:
12.10. --
19.10. Milky Way 1: Just
26.10. Milky Way 2, Stellardynamics: Just
2.11. Normal galaxies: Just
9.11. Active galaxies, galaxy distribution and global evolution: Just
16.11. Cosmology: Just
23.11. Big Bang and world models: Just
---
Registration and Material
Please find slides and other material (password restricted) and the registration for the exercises
here (Bachelor and master students, who want to get CPs, need to register)
---
Exercises to Introduction to Astronomy
Part I:
Time: 5., 6., 9.10.2015, 15:00 - 18:00, split in an early and a late group
Location: ARI SR
Part II:
Time: Wed 21.10. - 25.11.2015, ARI SR
Early: 14:00 - 15:30, groups B,C,G,H,I,J
Late: 15:30 -17:00 groups A,D,E,F,K
---
Examinations
-> Rules for certificates (CPs)
---
Astro. lab course in WS15/16
The next astrolab course for completing the Bachelor module WPAstro will take place on 14.-18.3.16 or 19.-24.3.16 (you may choose one of the 2 weeks). Please register as soon as possible at the
registration page
.
(Responsible for contents:
Andreas Just
)